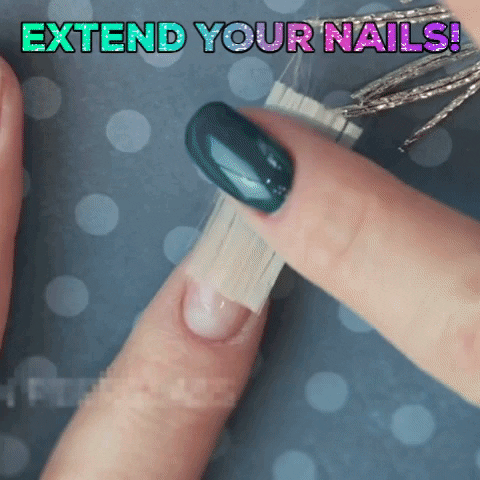 Wasting your money and time oneasy-to-break & expensive acrylicnail extension? Fiberglass is yet the hottestitem giving youtheMOST NATURAL.LONG-LASTINGNAIL EXTENSION!
Nail Extension Silk Fiberglass
easily extends your nailsby transforming
ultra lightsilk fiberglass
to durable but
flexible fiber nails
. Each piece of fiberglass is enough for 5 nails. So this set (10PCS) offers you
nail extensionfor 5 times!
Super cost-effective!
Free to trim
tocustomize
nail extension length from0.5cm – 8cm!Also able to DIYany
shapes –
Round. almond. oval. square
etc!
Traditional acrylic nail extension cause various problems – Easy to break because of low flexibility.
damage
nail
bed. stop the growth of nails……But f
iberglass isof
high flexibility
. and it is
scratch-free. odorless and light enough to stick close
to prevent
lifting. popping off and catching
at the nail edge.
How long will it last?
Generally the nail extensionlasts ~30 dayswith proper nail care. Fiberglass ismoreflexiblecomparing with traditional acrylic nails/ soak off nails. So it is noteasy to break or get scratched!
Is it too professional for beginners?
NO. no professional tool/ skill is required! So it is super easy to apply- Just
trim the fiberglass. apply and cure. You can cut your nailsto further adjust nail shapes after extension as they are flexible.
FEATURES:
Ultra Light & Natural


Unlike acrylic nail tips.it is more flexible and lighter than acrylic. It will not affect you to do housework and you even do not feel it exists.
Easy to Apply
No nail form or acrylic nail tip is required. Just trim. apply and cure to have perfect nail extension without going to expensive nail salon!
Durable and Scratch-free


Not easy to break or scratch as soak off UV gel.

Crystal Clear Style
Clear color with full coverage is easy to further apply your favorite nail polish.
Long Lasting
Up to 30 dayswith proper nail care.
Professional Nail Repair
Strengthens weak. thin nails and repairs broken nails.
Safe to Use
100% Non-toxic. odorless and harmless to the nail bed and skin.
Recommend to use withFiber Builder Gelfor the best result.
DIRECTIONS:
Trim the fiberglass to your desired length/ size.
Apply base coat. Before the base coat dries. put fiberglass on nail surface and cure.
Applyfiber builder gel and cure for 1-2 mins to strengthen the extension.
(Optional) Cut the extended nails if necessary.
(Optional) Technical sanding to make it more natural and smooth.
(Optional) Apply top coat which leaves the nail always shinyand more durable.
SPECIFICATIONS:
Material (Fiberglass): High Quality Fiberglass

Length (Fiberglass): 8 x 4cm /pc
Net Content (Fiber Builder Gel): 8ml